Over the last month, hundreds of San Joseans have visited the much-talked-about East Side Dreams exhibit at the Martin Luther King Jr. Library, which highlights some of the neglected history of East San Jose — including lowrider culture, and other stories of community activism + leadership. 💪
If you haven't caught this powerful exhibit yet — never fear. It'll be freely accessible on the second and fifth floors of the MLK Library until Sat., Sept. 24 — no library card needed. For the auditory learners out there — a community member + activist panel will take place on Sat., Aug. 13, and a scholarly panel will follow on Sat., Sept. 3. 💬
To help guide your next visit to East Side Dreams, we're highlighting the significance of this historic exhibit + what this means to locals.
📦 An "iceberg" of history
The genesis story of the East Side Dreams exhibit has become almost as well-known as the exhibit itself.
In 2018, library clerk Estella Inda put together a lowrider exhibit + received a guest question about Lowrider Magazine. To her surprise, she realized there were no copies of the magazine at the library, despite the fact that it was co-founded by San Josean Sonny Madrid. From one question came many more.
"It's like an iceberg, right?" said California Room librarian Shane Curtain. "The amount of history that was under there versus what's known on top — and particularly the details."
At the time, the history Estella and her colleagues were attempting to reconstruct was broadly known by East Side locals, but not necessarily recorded or accessible to the broader public.
"We've always known about Ernestina, we've always known about Sophia, we've always known about the GI Forum — but it's always been getting the materials." Kathryn Blackmer Reyes, AAACNA Studies Center Director, added. "And I think Estella was at the right time at the right place."
Because of Estella's connections within East San Jose, she was able to build bridges with community members who entrusted the library with countless boxes of materials for the exhibit.
👀 Why this matters
According to Rosanna Alvarez, Vice President of La Raza Historical Society, before this exhibit, much of East San Jose's history was carried by the community. But with this model, "we run the risk of falling into our kids believing the narratives they hear that are much more readily available and accessible," she said.
As Estella helped develop this exhibit, she saw this as an opportunity to go beyond harmful + misleading statistics. "There's an actual community over there that has done great stuff to achieve everything that they have."
"Historically, socially, culturally — the East Side is a very important part of San Jose," CasaQ and Farmworker Caravan founder, Darlene Tenes, agreed. "People have a negative perception, [so] it's very important to see all these accomplished people and the things that they have done, [and] it's important for East Siders to see that [too]."
While some might see these achievements as limited to East San Jose, Kathryn believes the exhibit tells a bigger story. "The East Side has had a ripple effect on histories — not just in San Jose, but I think statewide and even nationally, for a lot of people."
Kathryn also notes, "[This exhibit] also transforms people's perception of what the library does, which I don't think for most people includes gathering community history and converting it to some massive display."
"It feels like an offering — a timely one," says Rosanna.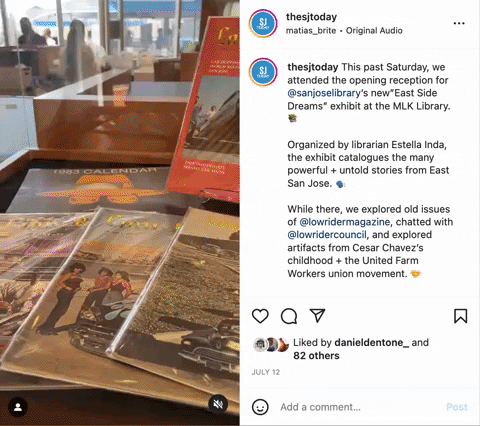 🔍 Exhibit highlights
When asked about favorite parts of the exhibit, each person we asked had a different highlight.
"People know Luis Valdez, Jim Plunkett," said Estella. "But it's the extra people behind them that they don't get to see because it's not the famous side. So Chuck Alexander, the Ribbs family, Art Rodriguez… It's the people from the East Side that had dreams and went and achieved them."
"I love all the activist artifacts in particular, so the community alert patrols stuff was very interesting to me," said Shane. "Just [...] following the whole path of activist history [with] Saul Alinsky, Chicago, Back of the Yards. That takes us over here, Fred Ross, Cesar Chavez. It's all connected."
Darlene is also featured in the East Side Dreams exhibit, as is her mother, Lily Tenes. Speaking to her, Darlene was excited to see another familiar face featured. "I love Dr. English. He was our doctor when we were kids." As one of the first Black doctors in San Jose, Dr. English faced intense racial discrimination + would later advocate for health care equality.
➡️ What's next?
During your next visit, if you notice an East Side figure or story not included — there's a reason.
"We know that there's gaps in this exhibit," says Estella. "And that's intentional, because it's supposed to bring people in that have those histories." For example, she and Shane are both hopeful that the community will help them expand the exhibit's Vietnamese and Filipino representation.
As for the future, SJPL Director Jill Bourne supports expanding the exhibit to other branches, like the recent Black Spartans exhibit. Digitization is also top of mind. Though this process could take years — everyone would then be able to access the East Side Dreams collection remotely + without a library card.
While Rosanna believes the community will continue having these conversations by engaging with La Raza Historical Society or submitting to community publications like her Eastside Magazine, she encourages community members to show up for this exhibit in the meantime.
"It's important to continue to support the archives that have claimed space in those more institutionalized platforms. [...] The library is inviting us, [and] it's our job to go back and make sure that we're accessing those stories and continuing to build on those stories, because history happens in the present as well."